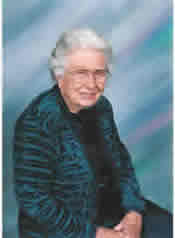 Geraldine Anderson Mies, 87, of Loami and formerly of Saunemin, died Tuesday, February 11, 2003, at her home in Maxwell Township. She was born May 24, 1915, in Maxwell Township, Sangamon County, a daughter of John Milford and Leona Conlee Anderson. She married Clarence Mies on August 20, 1938, in the Anderson residence in Sangamon County, by Elder Chastain. Clarence preceded her in death on August 12, 1991.
She is survived by two sons: Edward C. (wife Jean Ann) Mies of Loami; David W. (wife Sharron) Mies of Goshen, IN; three daughters: Jane (husband Richard) Hall of Loami, Ellen (husband Robert) Woods of Taylorville, Vera (husband Dr. Patrick) O'Donnell of Columbia, MO; one sister: Rev. Loraine Pitman of Indianapolis, IN; five grandsons: Richard (wife Adora) Hall of Alpharetta, GA, Craig (wife Susan) Hall of Waverly, Tim (wife Emelie) Mies of Champaign, Ted (wife Julie) Mies of Waverly, and Jonathan Mies of Loami; six granddaughters: Rebecca (husband Dr. Murray) McGrady of Belleville, Cynthia (husband Charles) Patterson of Auburn, Stephanie (husband Ross) Freier of Rochelle, Dr. Anna (husband Dr. L.W.) Richie of Springfield, Rev. Lana (husband Rev. Glen) Robyne of West Lafayette, IN, Valerie Woods of Richton Park; and 16 great-grandchildren.
She was preceded in death by her parents; husband; daughter in infancy, Eileen; two brothers: Lawrence Conlee Anderson and Ronald in infancy; grandson, Eric Woods; and brother-in-law, Rev. Frank Pitman.
Mrs. Mies graduated from Waverly Township High School in 1933, and in 1937 from the University of Illinois with a degree in Home Economics Education. While at the U. of I. she became a charter member of the 4-H Cooperative Residence for University Women. Upon graduation she taught in Athens and sub taught in the area for many years. After starting her family she was very active in 4-H, serving 20 years as a leader in Sangamon and Livingston counties.
Her church was very important to her, she was a member of the United Methodist Church in Waverly and in Saunemin, and very active in the United Methodist Women, serving in various leadership positions in both over the years. She was also an active member of the Sangamon County Farm Bureau, TIE, Neighbors Together Again, Talkington Home Bureau, and a charter member of The Waverly Genealogical and Historic Society.
She traveled extensively having been to Germany, France, Alaska, and Hawaii.
Funeral services will be held at 11:00 a.m. Saturday, February 15, 2003, at the United Methodist Church in Waverly, with Rev. Sharon Colbert officiating. Visitation will be at the church on Friday, February 14 from 4:30 to 7:30 p.m. Burial will be in Union Cemetery, New Berlin Township, Sangamon County. Memorials are suggested to the United Methodist Church Elevator Fund or Illinois 4-H Foundation Legacy Fund. Neece Funeral Home in Waverly is serving the family. Condolences to the family may be made online at www.airsmanhires.com.